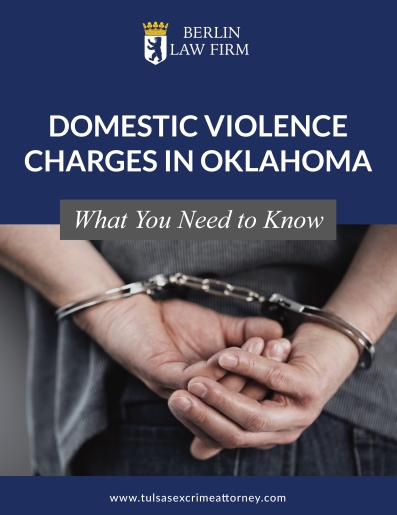 Being charged with domestic assault and battery in Oklahoma can have a devastating effect on a person's reputation, career and employment prospects, familial and social relationships, finances, and liberties. And the consequences of a domestic violence conviction can last a lifetime.
If you're facing any type of domestic abuse charge, it's absolutely essential that you understand those charges, your legal rights and options, and how your actions might affect the outcome of your case. That's why the Berlin Law Firm wrote Domestic Violence Charges in Oklahoma: What You Need to Know and made it available for free via instant download.
In this guide, the Berlin Law Firm draws on its 23 years of experience handling domestic assault and battery cases in Oklahoma to empower people charged with domestic abuse with the information they need to navigate this frightening and perilous situation.
Request your free copy of the guide to find out more about Berlin Law Firm's unique focus for representing domestic abuse defendants. You'll also learn:
The different types of domestic violence charges, including domestic assault and battery, domestic abuse committed in front of a child, domestic assault and battery against a woman known to be pregnant, domestic abuse resulting in great bodily injury, and domestic assault and battery involving strangulation (or attempted strangulation)

What to expect after being arrested for domestic violence offenses

Why second or subsequent instances of domestic abuse are automatically charged as felonies

Common mistakes that could harm your case

And more
Don't wait—download Domestic Violence Charges in Oklahoma: What You Need to Know now. After reading the guide, if you have questions or would like to schedule an appointment for a private consultation, contact Berlin Law Firm at 918-384-0850. We provide unparalleled legal representation for domestic assault and battery defendants in the Tulsa area and throughout the state of Oklahoma.
Have You Been Charged With A Domestic Assault And Battery Crime In The Tulsa, OK Area?
If you or a loved one has been charged with domestic assault & battery in the Tulsa, Oklahoma area you need to speak with an experienced criminal defense attorney as soon as possible. Please contact us online or call 918.384.0850 for your initial strategy session. We are proud to serve Tulsa and all surrounding areas.
Request Your Free Report Here